Dates: June 13 - June 26, 2017
Introducing our next tour: Literary Canada!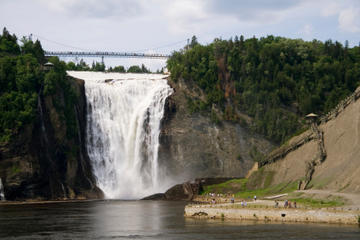 Join us
June 13 – 26, 2017
exploring the beauties of our neighbor to the north: Canada's culture, art and literary connections, food and gorgeous vistas!
Time in French-speaking Quebec discovering the wonders of Old Montreal and historic Quebec City – you will think you are in Europe!  Majestic St. Lawrence River area seeing artsy villages to a whale-watching cruise! A fun and scenic train ride connects us to maritime Canada where we will see the charm and romance of Prince Edward Island home of Lucy Maud Montgomery's endearing Anne of Green Gables and sea-faring Nova Scotia from its coastal lighthouses, Scottish influence to eclectic Halifax!
The following itinerary is subject to change depending on availability:
DEPARTURE:
UA 6153 JUN 13 KC to Dulles 8:15am  and 11:37a
UA 4712 JUN 13 Dulles to Montreal 12:30p and 2:04p
RETURN:
UA 4137 JUN 26 Halifax to Newark 4:16p and 5:49p
UA 3563 JUN 26 Newark to KC 7:29p and 9:43p
Flights from other cities available
Montreal
Our stay in Montreal will be at The hotel – Le St. Sulpice A wonderful hotel in a superb locations in Old Montreal!
While in Montreal, our cohost Vivien Jennings of Rainy Day Books has arranged time with best-selling mystery author Louise Penny!  We will have a drinks reception with Louise at our hotel (second evening).
Charlevoix,Quebec
From Montreal to the Charlevoix area on the Saint Lawrence, we will stop and have lunch at the stunning Montmorency Falls Park. The falls are higher than Niagara Falls!
Our accommodations in Charlevoix will be the Fairmont Le Manoir Richelieu!  This is an exquisite property (looks like a French chateau) and the views are spectacular!  The farmland and artsy villages in Charlevoix are charming.  We will take leisurely excursions in the area and do a whale watching boat trip!
We will spend nearly a full day exploring historic Quebec City!  Dinner that evening will be together at the fabulous French restaurant Bistro 1640, one of the best establishments in the city.
Following dinner, we will board the sleeper train: The Ocean.  All the sleeper cabins provide a small showers, sink and toilet.  There are no hairdryers on the train so you will need to bring one. On board, you will have breakfast and lunch in the dining car the next day.  Time can be spent looking at the great scenery of New Brunswick (some ocean views) in the observation car or your private cabin.
Prince Edward Island
Our train ride ends in Moncton, New Brunswick at approx. 1:30 PM the next day. A private bus will meet us and we drive across the famous Confederation Bridge to Prince Edward Island (PEI).
Our hotel on PEI is Dalvay-by-the-Sea!  This unique inn located in the Prince Edward Island National Park was built in the 1800s, it's the former home of an American oil magnate (he used it as his summer home).  For many years now it's been a romantic hotel and past renovations added the beautiful restaurant.  The hotel retains the gorgeous wood trim, stunning staircase and upper level gallery and three large fireplaces.  Antiques fill the bedrooms so each has its own charm. I could not stay here as it closes for the winter and re-opens each May.  Dalvay, as its name implies, sits near the sea.  There is an inlet water source near the hotel.  To get to Dalvay Beach you cross a road, then the sand dunes and you are there!  Imagine sunset walks on the beach!  Dalvay Beach is considered one of the best and loveliest beaches on PEI. The hotel was also used in the original long version Anne of Green Gables movie and the TV show Road to Avonlea; distinguished recent events include the royal visit by Prince William and Duchess Kate in 2011 (they didn't stay overnight but participated in a dragon boat race and had a reception at the hotel).  To confess, I had this hotel in mind when I went on my inspection trip; though seeing it in person and confirming availability for our group pleases me very much!  I wanted to find a beach situated hotel on PEI for you all and this one will offer a fabulous experience!  We stay here 3 nights with breakfast and dinner included.
Our Anne of Green Gables/Lucy Maud Montgomery pilgrimage will happen as planned as well as other coastal drives and a half day to discover PEI's charming capital city, Charlottetown!  (*Please note: the hotel does not have an elevator; if you have issues with stairs I can request a room for you on a lower level; porterage is included so no one will have to carry bags up or down stairs!)
Nova Scotia (Cape of Breton Island)
We venture to Nova Scotia via a large ferry.  Our first 2 nights in this province will be in the Cape Breton Island area where people settled from Scotland and Ireland. Much of this area is Celtic in flavor.  There is also a prominent Acadian presence (French settlers) and reservations for the First Peoples called the Mi'kmaq.  This part of Nova Scotia is stunning!
 We will base in the town of Baddeck located by a salt water lake.  Baddeck became the home of Alexander Graham Bell and his family and they built a lovely home there.  Today, the home is still owned by ancestors and items from the Bell collection (including many of his inventions) are on display at a modern museum which the townspeople are proud of!  Baddeck today has 1000 residents. A few boutique shops and other eateries can be found.
Our accommodations will be at the Inverary Resort, a family-owned property siting on 11 acres with wonderful views of the lake.  Our rooms will be in the main lodge that dates to the 1850s.  All rooms are well appointed and modern.  There is a fun Scottish pub on the lower level with live music each night!  While on Cape Breton, we will drive the Cabot Trail which offers fantastic views of the coast and through the Cape Breton Highlands National Park.  Scottish settlers thought they had found a place similar to their homeland – New Scotland!
Nova Scotia (Halifax)
 Our final 2 nights in Nova Scotia will be in the harbor capital city Halifax.  Our accommodations will be The Prince George Hotel, A fabulous boutique hotel located in the historic city center.  This area has lovely old churches, Public Gardens, plenty of marvelous restaurants and pubs and a walk to the harbor front and boardwalk.  Halifax has an upbeat energy and it will be fun in June! The staff at the Prince George are accommodating and friendly and they are excited to welcome you!  This is a modern hotel with old world charm and sophistication.
While in Halifax, we will meet author/historian/tour guide, Blair Beed who will give us a memorable tour of Halifax's ties to the Titanic.  And, we'll make one more coastal excursion to Peggy's Cove where the most photographed lighthouse sits!
Note: the Base Tour Cost will be set once we know the exact cost of the airfare and the number of participants. This tour will not exceed 50 people.
Base Tour Cost Projection: $5,400 to $5,800 per person based on double occupancy. Single supplement and Land Only costs will be forthcoming
Deposits and Payments: A deposit of $500 per person will secure your spot on this tour due immediately at sign-up
Monthly Payment Plan: Convenient monthly payments will begin February 1, 2017 through April 1, 2017. Your deposit goes toward your base tour costs. Please follow this schedule:
February 1: $1,500 per person
March 1: $1,500 per person
April 1: $1,500 per person
May 1, 2017: Your final payment will include any remaining amount owed to the base tour costs plus any Optional Tours you elect to purchase
You may also pay in larger sums if you wish, making fewer payments. However, if you participate in the monthly payment plan, please make your payments on or before the due date.
Please note: Tour costs do not include travel insurance. If you have a pre-existing health condition and you wish to obtain travel insurance, you must do so within two weeks of paying your deposit to Lisa Ball Travel Design.
Payments may also be made via VISA or MasterCard through PayPal available on the Lisa Ball Travel Design website. Click on the "Pay Now" button at www.LisaBallTravelDesign.com. PayPal does charge a 3% fee and if you choose to pay via this method, please add 3% to your payments. Credit cards are only accepted via PayPal.
Cancellation Policy: If you must cancel your participation with this tour, the tour director will strive to reimburse as much of the trip costs you have paid as possible. The amount of reimbursement depends though on the timing of a cancelation. If you cancel after the final airfare ticketing process, (this date will be communicated to travelers) your deposit will be automatically retained and the remaining amount you receive back in reimbursement will be determined based on the timing of your cancellation and what has been outlaid on your behalf. If you purchase trip cancellation/interruption insurance the tour director will work with your insurance company to provide the necessary paperwork so you can receive a reimbursement from the insurance company. Please note: some tour costs affect the cost of others going on the trip and those items cannot be refundable. These items include the ground transportation, hiring of guides, group meals, and sight-seeing venues where fixed, timed tickets have been purchased.
****Subject to change based on availability****